OFFICE REOPENING PROCEDURES
Guidelines for Patients
New Office Protocols for COVID-19
Our office has always followed strict infection control standards and in order to keep us all protected during this pandemic and in the future, we have updated our protocols. When we see you at your next appointment, things will be a little different.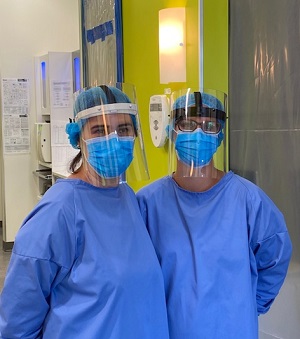 1. Patients will be screened for COVID-19 symptoms at time of booking and prior to appointment.
Patients who screen Negative may be seen for regular treatment.
Patients who screen Positive are ONLY to be seen for urgent or emergency treatment. These patients are advised to contact their primary health care provider or consult with Telehealth Ontario at 1-866-797-0000 for further testing.
2. If patients exhibit any symptoms of COVID-19 – non-urgent treatment will be deferred for 14 days, and the patient will be re-assessed for symptoms.
3. Patients will be asked to fill in their medical history forms online. Paper copies will be limited.
4. Patients will be required to read and sign a "Covid-19 Patient Consent" form in order to be treated in person. Please see the digital copies of the form online and submit it prior to your appointment. By filing out these forms ahead of time you will save significant time on your visit.
5. Patients are advised to contact the office by email or telephone for all communications. In person bookings and front desk services will be suspended at this time.
6. Patients are asked to arrive only 5 minutes prior to their appointment time as the waiting room will be limited to only 2 patients. Each patient will be re-screened for COVID-19 at the time of arrival. Our reception area has been cleared of chairs, reading materials, and toys to reduce surface contamination.
7. Those accompanying patients (including parents) are asked to wait outside the office during the appointment. Guests accompanying patients will not be allowed in the treatment rooms during treatment. Parents are welcome to come in for the medical history update, diagnosis and treatment plan formulation, but we ask only one parent to accompany the child. This is to limit the number of patients in the reception area and office at one time.
8. Patients are to bring and wear a mask when entering the office (including children 5 years and up). Keep your mask on until instructed to remove it for treatment. A mask may be purchased at the office if you forget yours, as PPE supplies are limited in quantity.
9. Upon arrival, each patient will be asked to disinfect their hands with provided disinfectant. Your temperature will be taken with a contactless thermometer. The vestibule door will be locked to ensure only those with appointments are entering the office.
10. An oral rinse with 1% hydrogen peroxide will be provided prior to treatment.
11. During your appointment, you will be asked to remove your mask once physical treatment is to begin. Your providers will be wearing additional PPE, so office temperature may be uncomfortably cold during your appointment – please bring your own sweater. Blankets will no longer be provided. We recommend to do as much treatment as possible during each appointment to reduce return visits to the office and reduction in PPE waste.
12. Patients must report any new symptoms or diagnosis with COVID-19 within 14 days after their appointment.
We are kindly reminding patients that we need 2 business days notice for any scheduling changes. There will be a fee of $50 applied to your account for any missed appointments. Additionally, we have made adjustments to the schedule to limit the number of people in the office at a time. Physical distancing is always encouraged and advised. Rest assured, all these procedures were designed to create the safest environment for you, other patients and our team.
We look forward to seeing you again. If you have any questions, please let us know, email us at [email protected] or call us at 613-714-9696.
We truly thank you for your patience, understanding and loyalty throughout this period. We value your trust and look forward to welcoming you back!
Sincerely,
Dr. Gimurtu, Martine, Cynthia, Nathalie, France
Updated September 16, 2020